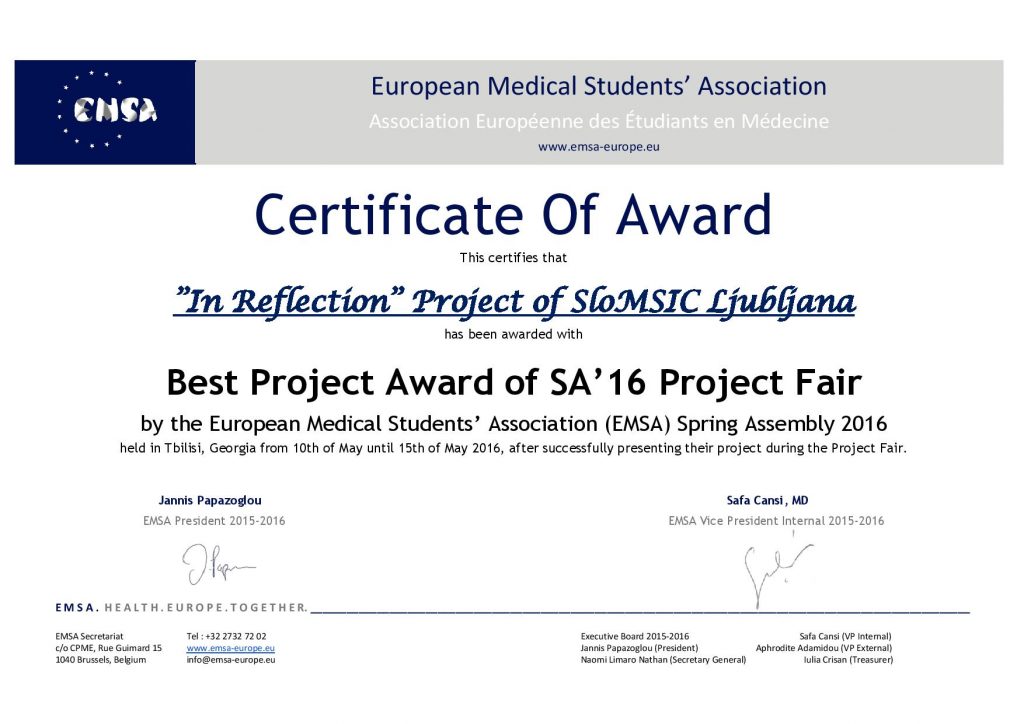 NAGRADA »BEST PROJECT AWARD OF SPRING ASSEMBLY 2016 PROJECT FAIR«
EMSA (European Medical Students' Associations) je internacionalna neprofitna, nepolitična organizacija, ki je bila ustanovljena leta 1990 v Bruslju. Predstavlja več kot 150.000 študentov medicine iz Evrope. Deluje kot forum za zastopanje, projekte, treninge, delavnice in internacionalna srečanja. Misija organizacije je da promovira najvišji standard in kvaliteto zdravstva v Evropi, gradi močen občutek evropske identitete in da facilitira medkulturno razumevanje. EMSA je študentska članica Evropskih medicinskih organizacij prepoznanih s strani UN in the European Comission.
Letos maja (2016) je v Gruziji bil predstavljen projekt V odsevu, kjer je prejel nagrado za najboljši projekt na 'SPRING ASSEMBLY 2016 EMSA PROJECT FAIR'. Nagrada nam je potrdilo, da z vsakim novim letom delovanja ohranjamo visoko kvaliteto projekta. Zato nameravamo tudi v bodoče nadaljevati z našim trdim delom na področju osveščanja o duševnem zdravju in destigmatizacije duševnih motenj. Naš cilj v prihodnosti pa je tudi mednarodno sodelovanje in širjenje našega projekta znotraj Evrope.

Za sodelovanje in podporo se najlepše zahvaljujemo, veselimo pa se vseh izzivov, ki nas čakajo v študijskem letu 2016/2017.